THE MEMORIAL PARK (MINDEPARKEN)
AARHUS CITY HALL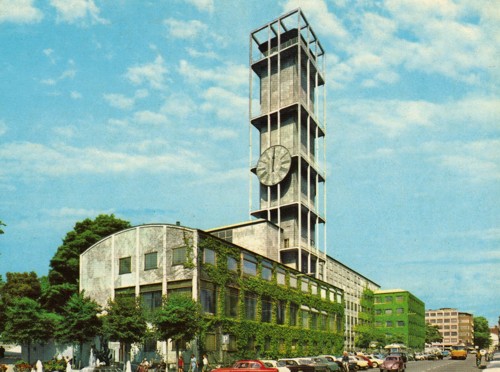 Aarhus City Hall is the city hall of Aarhus, Denmark. The decision to build a new city hall was taken during a city hall meeting in 1937. The new building was inaugurated 2 June 1941, designed by architects Arne Jacobsen and Erik Møller. On the first proposal, the plans did not include a tower but due to massive public pressure it was later added to the drawings along with the idea to clad the structure in marble. Hans Wegner was in charge of the furnishing – which is uniquely designed to fit the building -, and parts of the interior design.
MOESGAARD BEACH
Moesgård Beach (or Moesgaard Beach)
Sandy beach at the edge of Marselisborg Forest. 5 miles south of the centre.
We recommend bus route 18 to get to Moesgård Beach.
MARSELISBORG DEER PARK
Marselisborg Deer Park (Danish: Marselisborg Dyrehave) is a 22 hectares (54 acres) enclosed woodland area in the northern parts of the Marselisborg Forests. The trees are somewhat sparse here and the terrain especially hilly, compared to the surrounding forest.
Marselisborg Deer Park is not a deer park in the original sense, as it is not meant for hunting deer. The idea is more like a small safari park, but just presenting a few common species, without exotic animals. Initially sika deer were introduced to graze the curvy open woodland hills, but later roe deer and wild boars has been added.
The park was established in 1932 and have since been enlarged several times. It is owned and administered by the Aarhus Municipality.
MARSELISBORG FORESTS
Marselisborg Forests (Danish: Marselisborgskovene) or simply Marselisborg Forest, is a 1,300 hectares (3,200 acres) forest to the south of Aarhus City in the Kingdom of Denmark. Many present day sources now includes the forest of Fløjstrup, as part of the Marselisborg Forests, upping the total area with another 200 hectares (490 acres). Marselisborg Forests runs along the coastline of the Aarhus Bay in a hilly terrain with steep slopes and deep gullies, especially at the shoreline. There are many traces of prehistoric activities here and the landscape have been covered by woodlands for thousands of years.